Privacy, Security and peace of mind are your greatest investments.
Looking to enjoy quality family time outdoors? Sleep at night worry-free? Or simply run inside to grab a drink while your young ones and or pets are in the backyard without worrying of an accident happening?
Here at Backyard Pros, we can make that happen for you. With numerous sturdy materials to choose from, we can put your mind at ease in no time while increasing the value of your home.
Options you can choose from
Our wood Fences can be built from Pressure – Treated or Cedar. Vertical or Horizontal. Wood fences can be made of many styles and can go as high as 7' in most areas for full privacy. They are built using galvanized fasteners, which eliminates premature rotting.
Wood fences will require less maintenance than wood decks as they are vertically standing, no ice or snow will directly be in contact with the panels, however, sanding and staining will be required once every 4-5 years, to ensure proper sealing and control aging.
Metal fencing comes in wrought iron and chain link. Metal fencing makes great fences for backyards and pools. Requires minimum maintenance and many designs to choose from. you can go with a full classical look or  blend it with a Modern looking backyard. Metal Fencing will add a unique touch to any yard it is built on.
PVC fence makes a great choice for a  maintenance free fence. Comes in different heights and got a width of 6' for extra sturdiness. Inside every PVC post, a steel pipe is driven into the ground, to code depth.
They're fading resistant and if installed properly, they'll last a lifetime.

They won't crack

They come in a variety of colours, White and Tan being the most popular

Not every PVC fence is manufactured or built the same

Lifetime Manufacturer's warranty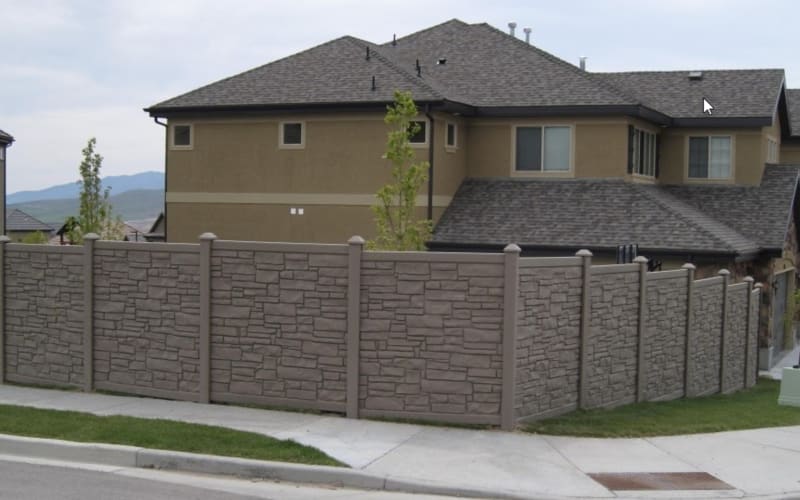 SimTek® fences offer an exquisite durability and performance for creating a peaceful and calm outdoor space. This fence is a whole other category compared to the average stone.
Manufactured with EcoStone ( Allegheney) and Ashland (Sherwood) have a realistic granite-stone and wood appearance that is maintenance free and provides solid privacy.
Stands out

Maintenance free fence

Sound-barrier to exterior noise

Superior strength and wind resistance

Made with recycled and recyclable polyethylene plastic
An excellent sawmill. Top quality and always a good price, so my previous experience. I would particularly like to highlight the technical advice, mostly by the boss himself, which I really appreciate. Very accommodating staff. The solid wood professional is known for being able to respond to extraordinary requests. From me 5 stars!
We hired backyard Pros last summer to build us a two tier Composite Deck as well as a fire pit at our house in Alta Vista. They delivered nothing but high quality work right on time. Mike and his team are truly easy to work with and have the right knowledge in the field. Highly recommended.
Backyard pros were very responsive to questions and emails. They installed my PVC fence within the time frame we agreed upon. They were very friendly and professional. I would definitely recommend this company
We were really stuck last summer regarding our backyard, we had only called Mike for a consultation but other companies always flipped flopped on us, but Mike saw our vision through! Thanks Mike for the clean job! I promised you a review if I was 100% satisfied! :-)
They have very good knowledge in their field, our vision was truly brought to our Backyard. Our deck fits the space perfectly and is maintenance free. Thanks for the great work guys.
'I have been through contractors more than I can count. But, I am so lucky to have met these guys, they put me at ease the minute I met them and throughout the project. Delivered on time, paid for the project as quoted, guaranteed work etc... things we all expect out of a contractor but unfortunately there are few bad apples in the industry, these guys have taught me how to trust a contractor and their work and most importantly their word. They expanded my existing deck, built a beautiful outdoor kitchen and re-stained the deck. fantastic workmanship. I would definitely recommend them again and again and I know you will once you hire them.'
After getting multiple quotes for a 9 houses PVC fence project, we chose Backyard Pros for their competitive prices and expertise. All 9 home owners including myself cannot be happier! Highly recommended, Mike is very easy to communicate with.
We offer our deck, fence and interlock services to the following regions.
Removal of existing fence?
If you have an existing fence that must be removed prior to installation of a new fence, the standard price for the removal of the existing fence is $8 per linear foot. This includes removal and disposal irrespective of fence type.